Books by Buddy Levy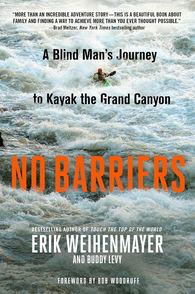 No Barriers: A Blind Man's Journey to Kayak the Grand Canyon

​"No Barriers does more than chronicle a magnificent and seemingly impossible journey through the heart of the Grand Canyon. It offers a shining testament to the truth that both on rivers and in life, it is within the pockets of turbulence―the places where chaos reigns greatest― that discovery, wisdom, and growth await. Weihenmayer's powers of discernment are acute, startling, and deeply inspirational."
-- Kevin Fedarko, New York Times bestselling author of The Emerald Mile

"An inspiration to other blind people and plenty of us folks who can see just fine."
-- Jon Krakauer, New York Time bestselling author of Into Thin Air
---
Geronimo: Leadership Strategies of an American Warrior
"In the hands of Leach and Levy, the story of this brilliant Apache leader comes into sharp focus, both in their narrative of his life and in spirited commentaries on its meaning... Leach is a coach, yes, and a great one. But he is no ordinary coach. He is also a scholar; he knows what he is talking about. [Leach] has always dipped into history to motivate his players and his record speaks for itself."-- S. C. Gwynne, author of Empire of the Summer MoonPurchase here.
---
River of Darkness: Francisco Orellana's Legendary Voyage of Death and Discovery Down the Amazon


In this fluid account, Levy narrates the story of the conquistadors who become the first Europeans to navigate the length of the Amazon River. After plundering the Inca empire, Gonzalo Pizarro and Francisco Orellana set out from Quito with an expedition of soldiers and Indian slaves in search of El Dorado. The two explorers became separated and the expedition quickly became lost in the jungle, then decimated by disease, starvation, and native attacks. Desperate, Orellana and the remaining conquistadors built a large boat and sailed downriver...

-- Publishers Weekly
Purchase here

.
---
Conquistador: Hernán Cortés, King Montezuma, and the Last Stand of the Aztecs



"The clash of these two empires is the tragic tale of conquest and defeat, of colonization and resistance, of empires won and civilizations lost—and of the remarkable and violent confluence of two empires previously unknown to each other. This confluence of cultures in 1519 is the unbelievable story of one of the greatest conquerors history has ever known, the complex leader of the ancient civilization he would destroy, and the cataclysmic battle that would be the end of one world and the making of a new one." --From

Conquistador

, Introduction


Purchase here.

Listen to podcast here.
---
American Legend: The Real-Life Adventures of David Crockett



"

American Legend

is a great myth-busting story, written in a taut narrative style that is guaranteed to keep the reader up all hours turning the pages. Painstakingly researched, with an eye towards nuance and telling vignette, this crackling piece of work presents Davy Crockett as a man of genius and folly, which has the unlikely effect of making him all the more heroic."

-- Martin Dugard,

author of

The Last Voyage of Columbus

and Into

Africa: The Epic Adventures of Stanley and Livingstone

Purchase here.


---
Echoes on Rimrock: In Pursuit of the Chukar Partridge



From memories of heading into early twilight to go hunt with his father to stories of pursuing the chukar partridge in the dead of winter, author and avid hunter, Buddy Levy, presents a lyrical and honest look at the world of hunting the chukar partridge. ""Chukar hunting combines the best of all upland game bird pursuit into one challenging package: gorgeous, complicated, strong flying birds, physically and psychologically demanding terrain, and difficult and rewarding dog work. What else is there?

E-book available here.Available for purchase here.